Welcome and Introduction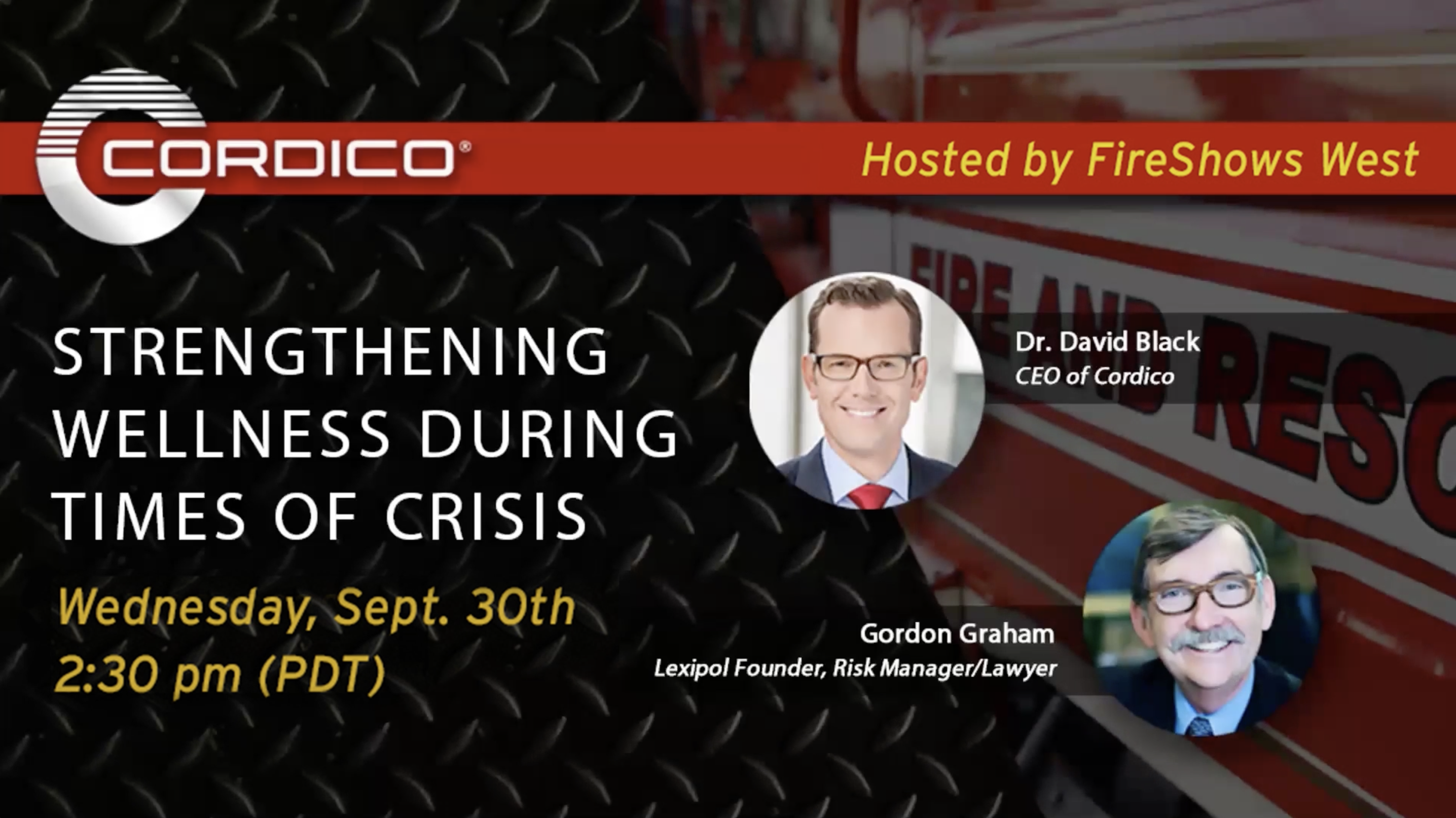 Thank you to our Sponsor

About Cordico
Cordico proudly serves nearly 200 public service agencies as the trusted provider psychological services and innovative wellness programs. Cordico's mobile wellness apps are aimed at strengthening workforce retention, resilience and well-being. The CordicoFire Wellness Solution provides 24/7/365 confidential support for firefighters. CordicoFire places the most comprehensive and trusted wellness resources directly into the hands of firefighters so that high-quality, customized wellness support is available on-demand, at the push of a button. Learn more at www.cordicofire.com.
Course Description
Being a firefighter was a stressful and demanding profession before COVID-19; and despite the unprecedented challenges we now face, our nation's heroes continue to perform heroically every day serving the greater good and protecting our communities. In this presentation, we'll review and discuss resources, tools, and strategies for prioritizing firefighter wellness during this time of crisis, with a focus on mitigating the stress and anxiety of working during the pandemic and the role of early detection and intervention of occupational health risks.
Disclaimer: The materials provided in this webinar are for general informational and educational purposes only. The materials are not intended to be and should not be considered legal advice or opinion. Please seek legal counsel before acting on the topics discussed. The materials are not intended to be and should not be considered a substitute for clinical diagnosis or professional medical advice or opinion. Please consult with your physician, therapist, or other qualified healthcare provider before acting on the topics discussed.
Gordon Graham
Gordon Graham is a 33-year veteran of law enforcement and the co-founder of Lexipol, where he serves on the current board of directors. Graham is a risk management expert and a practicing attorney who has presented a commonsense risk management approach to hundreds of thousands of public safety professionals around the world. Graham holds a master's degree in Safety and Systems Management from University of Southern California and a Juris Doctorate from Western State University.
​
David Black
David Black, Ph.D. is the CEO of Cordico and leads a team of highly experienced psychologists serving more than 100 public safety agencies. Dr. Black is a Board Member of the National Sheriffs' Association Psychological Services Group, serves as the Chair of Technology and Social Media, is an Advisory Board Member for the National Police Foundation's Center for Mass Violence Response Studies, and served on the International Association of Chiefs of Police (IACP) Model Policy Working Group for Investigating Officer-Involved Shootings and Other Serious Incidents. 
He oversees critical incident debriefings and specialized wellness programs for law enforcement, firefighters, and dispatchers. He has worked with first responders for 15+ years and began treating combat veterans suffering from PTSD in 1996. Dr. Black has provided psychological training programs for law enforcement crisis and hostage negation teams at the local and federal levels, and has also provided statewide training for forensic psychologists on topics including threat assessment, targeted violence, crime motive analysis, and violence risk assessment.